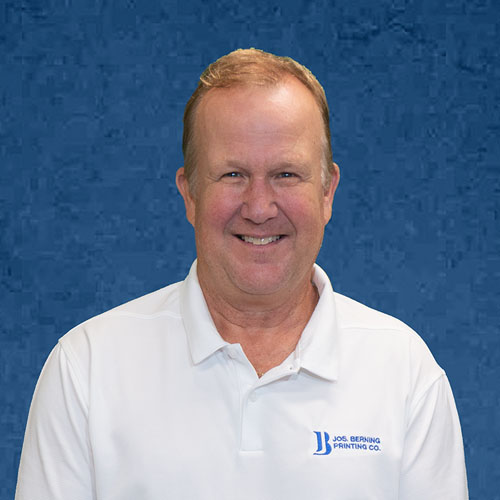 A Letter From The President
My great-grandfather, Joseph Berning, founded Jos. Berning Printing Co. in 1883. His sepia photograph and antique letterpress sit in my office alongside the photographs of my grandfather and father, who served in turn, as Presidents of Jos. Berning Printing. Each took care to adapt, to expand, to modernize the business—each one equally dedicated to serving the Cincinnati community civically, socially and philanthropically.
Their legacy reminds me every day of the Jos. Berning Printing Co. commitment to exceptional print quality, state-of-the-art technology, and unsurpassed customer service that has been a Berning hallmark for over one hundred and thirty-eight years. As the fourth and fifth generation, Michael Jr., Patrick and I personally ensure the satisfaction of every JBP customer.
Thank you for your business!
Sincerely,
MIKE BERNING, SR.
President 1998-Present

RICHARD BERNING
President 1966-1998
Richard Berning's tenure saw a heightened commitment to overhauling the physical capabilities of Jos. Berning Printing. A true "hands-on" leader and expert craftsman, he converted the printing operation to an all-offset shop and oversaw the relocation of the business to its current custom-built print facility in Queensgate. Richard Berning's infrastructure investments paved the way for the digitalization process that would transform Jos. Berning Printing as it entered its second century of business.

NORBERT BERNING
President 1926-1966
For 40 years Norbert Berning stood at the helm of Jos. Berning Printing, transforming the organization from a small, family-owned business to a thriving commercial enterprise. He personally developed long-term business relationships with his clients, many of whom are still our customers today.

JOSEPH BERNING
President 1883-1925
Printer, Cincinnati Vice-Mayor, County Treasurer, Entrepreneur, Philanthropist: Joseph Berning founded Jos. Berning Printing in 1883 in the rear of a Vine Street grocery. His charisma and sheer determination laid the foundation for a tradition of printing excellence and civic service.

Our mission is to create value for our clients by providing high-quality printing services in a customer-centered, innovative and eco-friendly environment. We take great pride in our reputation for outstanding customer service and in our desire to help our clients succeed.
1850 Dalton Avenue, Cincinnati, OH 45214
PH: 513.721.0781

Copyright © 2020-23 - Jos. Berning Printing